Sign up or login with your social network account
Forum rules
1 topic allowed for every LEGO city, town or universe. Everyone is welcome to reply on the shares of others!
Share your updates by show and tell or post your latest YouTube video update via the [media]<your video url>[/media] tag.

The "Show your LEGO city!"-board is international. Common rules apply, avoid bad language.
Street tile
Posts: 38
Joined: Tue Apr 14, 2020 4:34 pm
My LEGO city name: KarlsVik City
And with the new friends sets. Chubbarrya may even have some llamas later this summer
---
Site Admin
Posts: 579
Joined: Wed Jan 22, 2020 12:28 pm
Location: The Netherlands
My LEGO city name: Brickstow & Brickberry Springs
Contact:
Which set has a llama?!
Founding father of this website.
| Are you up for the 2020 Giveaway contest!?
---
Brick
Posts: 410
Joined: Mon Jan 27, 2020 12:53 pm
My LEGO city name: Brickswijk aan Zee / Bricksterdam
I looked it up as well because I couldn't remember, here you are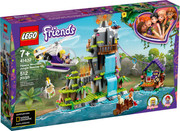 Sarcasm is my oxygen
---
Street tile
Posts: 38
Joined: Fri Apr 10, 2020 7:55 am
Location: Nevada USA
My LEGO city name: Chubbarya
Thank you, It's onlu a land of fantasy with nods to some of my favorite fictional charaters
Regardless where you live,
we all speak Lego!
WinterBricker
---