Sign up or login with your social network account
Forum rules
The Brickstow community is founded to talk about LEGO. inappropriate language is not a part in that. Stay always on topic to keep things cozy! The Brickstow team will act if you behave inappropriate.
Site Admin
Posts: 579
Joined: Wed Jan 22, 2020 12:28 pm
Location: The Netherlands
My LEGO city name: Brickstow & Brickberry Springs
Contact:
So, as we all know most AFOL and TFOL can not resist to create a full modular from the
76108 Sanctum Sanctorum Showdown
set which features the basics of two buildings, not in my best of Marvel story knowledge but I believe one side is a dollhouse build of dr. Strange his "lair", and the other little dollhouse exists from a pizza take away and above that, Spidermans appartment. Both are very detailed facades, and as we know any dollhouse set from LEGO just somehow is waiting for the community builders to take that and modify it into a full building.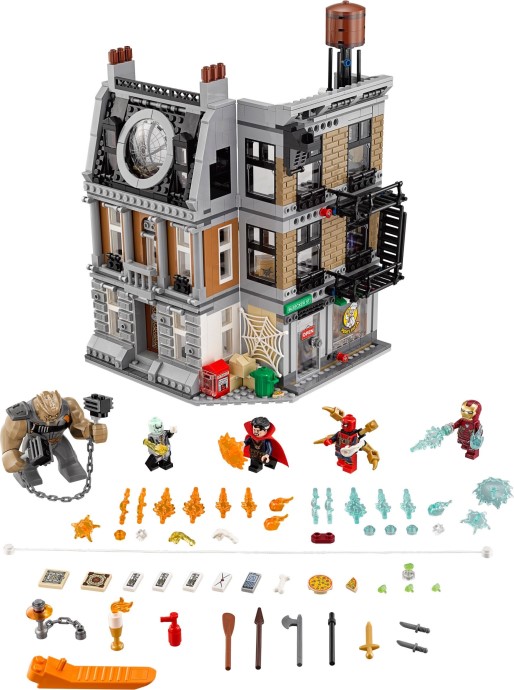 image of the 76108 legoset as found on brickset.com - click to visit
Little sidestep, personally I am becoming more and more a fan of Justin Ramsden's designs. He also was part of the design team responsible for creating the Stranger Things Upside Down set, ans while researching for this topic I discovered he also designed the 76108. Where the Stranger Things set is less of a playset, the "dr Strange set" is highly accomodated with play features. You can have Spiderman busting through walls and the hulk like creature rapelling from the roof, while Ironman is busy untangling from a web. Or any other mix of events you can come up with. mr Ramsden knows how to deal with any type of strange I guess!
Back on track with the Sanctum Sanctorum set. Dom and Kev, my fellow Brickstow legocity builders, grabbed the opportunity given when I bought a second one of these, to work out a modular. Really nice detail is how they where able to split building and designing: they both took responsability for one of the buidlings to turn into a modular, working towards eachother and merging their design if useful. They started in fall 2020, got to a first floor and some start of a second, and then the home renovations started, unfortunately forcing us to give up the lego room.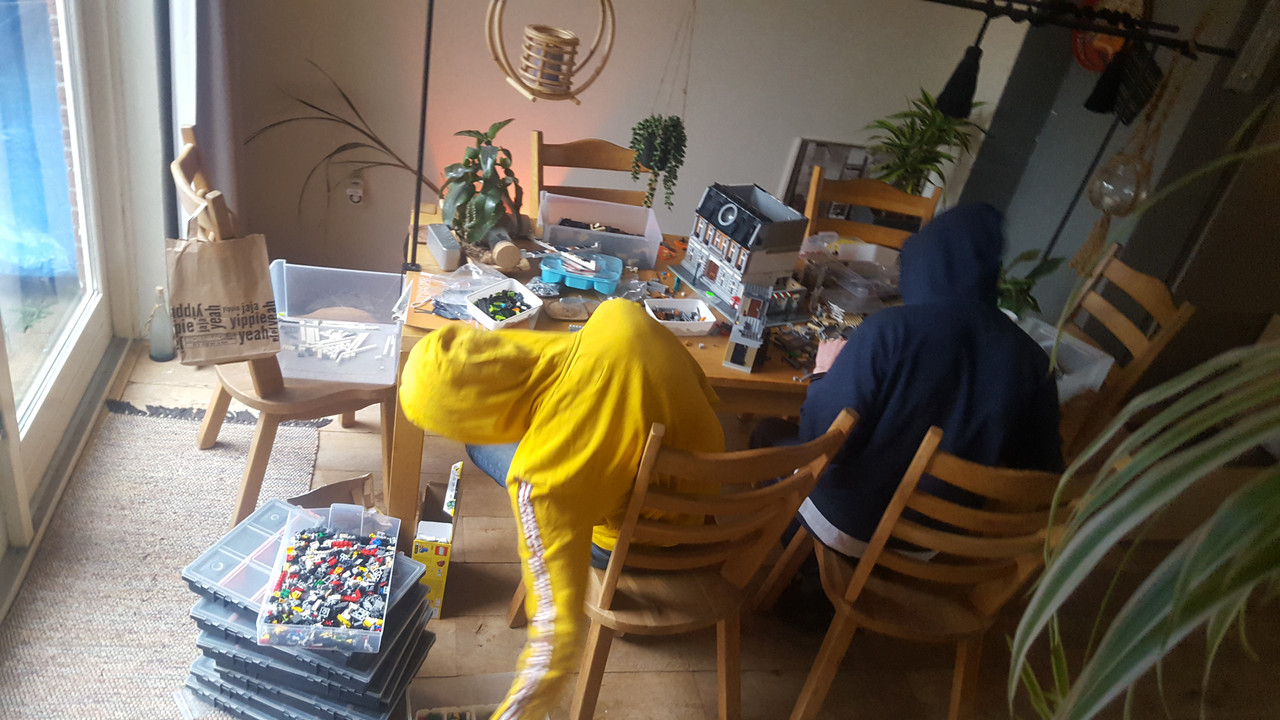 You know when your diner table disappears, there will be something magic to appear
Even though the renovations are not quite finished yet, and the legoroom is still waiting to be cleared for becoming a legoroom once again, we went to our local brick supplier last week. And while Kev came up with the suggestion to do so, I remembered I had promised the TFOLS to donate some funds for them to gather more bricks to continue the modification process. So when we were at the brick suppliers lair, they gathered a lot of stuff to continue their project.
Allthough the project still is not done yet, they did make some tremendous progress over the weekend towards their building taking shape. Offcourse, details details details - more to follow later, including some adjustments, but here are some snaps so everyone can see what the have made allready: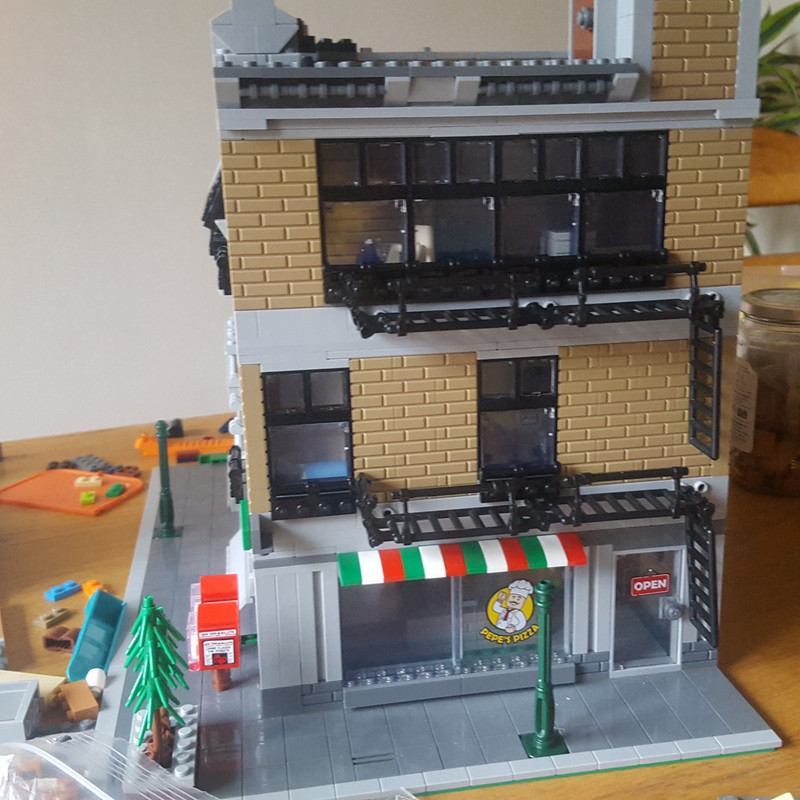 @Domo

is designing and detailing the pizza place and Spidey's appartment building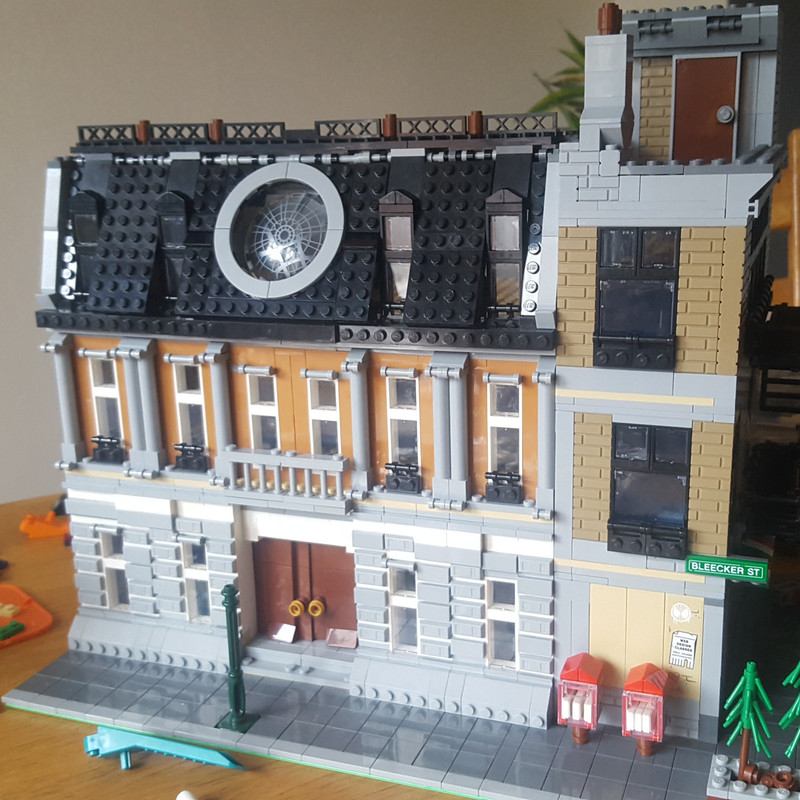 Kev is working on the dr. Strange building, succesfully merged two facades into one
More progress will follow later, including some detailed shots of a very detailed feature which takes the design away from the original playset, hinting more towards a more adult themed storyline not completely unknown in the Brickstow legocity universe..
Founding father of this website.
| Are you up for the 2020 Giveaway contest!?
Brick
Posts: 410
Joined: Mon Jan 27, 2020 12:53 pm
My LEGO city name: Brickswijk aan Zee / Bricksterdam
This makes the original look rather pathetic, and I liked that one, often considered buying it. So credit to Kev and Dom.

Regarding Ramsden, the Chinese Festival was a bit of a let down for me, not sure I have any other sets designed by him.
Sarcasm is my oxygen