Sign up or login with your social network account
Forum rules
Het verkopen van je LEGO is niet toegestaan op dit forum. De Brickstow community is opgericht om het over LEGO te hebben. Ongepast taalgebruik hoort daar niet bij. Blijf ten allen tijde binnen het onderwerp om het gezellig te houden! Het Brickstow team zal bij het overtreden van de gebruikelijke omgangsnormen optreden tegen de overtreders.
Site Admin
Posts: 579
Joined: Wed Jan 22, 2020 12:28 pm
Location: The Netherlands
My LEGO city name: Brickstow & Brickberry Springs
Contact:
We zijn allemaal op verschillende social media actief, en soms komen daar pareltjes van challenges / uitdagingen en wedstrijden voorbij. En die zijn veel leuker als er meer mensen meedoen!
Dit topic is er om te delen welke je hebt gezien en wel of niet zelf aan meedoet, en om de community hier daarover te tippen!
En natuurlijk om erover van gedachten te wisselen, napraten enzovoorts.
Het idee voor dit topic is bij mij ontstaan door deze: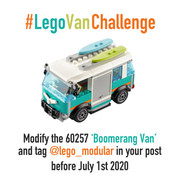 Founding father of this website.
| Are you up for the 2020 Giveaway contest!?
---