Sign up or login with your social network account
Forum rules
De Brickstow community is opgericht om het over LEGO te hebben. Ongepast taalgebruik hoort daar niet bij. Blijf ten allen tijde binnen het onderwerp om het gezellig te houden! Het Brickstow team zal bij het overtreden van de gebruikelijke omgangsnormen optreden tegen de overtreders.
Posts: 6
Joined: Mon Jan 27, 2020 3:23 pm
Omdat ik nu een weekje vrij heb werd ik geïnspireerd om enkele diorama's uit het lego ideeën boek 7777 na te bouwen in stud.io. Ik zal hier later waarschijnlijk ook een lay-out uit te ontwerpen.
Hier een preview van de transportband op bladzijde 8 en 9.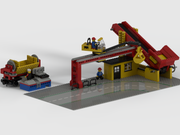 ---
Brick
Posts: 410
Joined: Mon Jan 27, 2020 12:53 pm
My LEGO city name: Brickswijk aan Zee / Bricksterdam
Ziet er gaaf uit zo!
Sarcasm is my oxygen
---
Posts: 6
Joined: Mon Jan 27, 2020 3:23 pm
Bricksterdam

wrote:

↑

Sat Feb 22, 2020 5:53 pm

Ziet er gaaf uit zo!
Bedankt, het was veel werk!
---
Site Admin
Posts: 579
Joined: Wed Jan 22, 2020 12:28 pm
Location: The Netherlands
My LEGO city name: Brickstow & Brickberry Springs
Contact:
Inderdaad indrukwekkend werk! Ik ben nog helemaal niet thuis in stud.io, dat is de tegenhanger van LDD toch?

Ik ken trouwens de 7777 collectie überhaupt niet, ziet eruit als designs uit de vroege 00's?

Edit: was nog vergeten te melden dat je hiermee dezelfde tik hebt als ik (tof zeg) namelijk op basis van een foto of twee iets willen nabouwen, gaaf om te zien dat ik niet de enige ben haha!
Founding father of this website.
| Are you up for the 2020 Giveaway contest!?
---