Sign up or login with your social network account
Forum rules
Everyone can start a topic, both Dutch and English topics are welcome / Iedereen kan een topic starten, Nederlands- en Engelstalige topics zijn welkom!
Dit kom ik de laatste dagen erg vaak tegen op instagram. Ik vind het erg tof aangezien ik zelf alleen maar 100% originele lego wil gebruiken in mijn lay-out: LEGO NIGHT MODE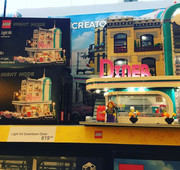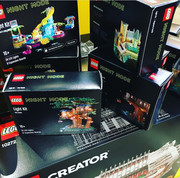 ---
Site Admin
Posts: 579
Joined: Wed Jan 22, 2020 12:28 pm
Location: The Netherlands
My LEGO city name: Brickstow & Brickberry Springs
Contact:
Goed idee dit topic! Ik heb op Twitter gelezen dat deze dummy sets in Kopenhagen in een LEGO store zijn neergezet en worden grbruikt als enquête: iedereen die erop af loopt wordt benaderd door een winkelmedewerker die met een paar vragen probeert te achterhalen of dit een product kan worden.
Slim bekeken.
Ik zou het prima vinden als dit een product wordt, maar ik vrees dat dit wel een erg dure oplossing wordt ten opzichte van de huidige offbrands.
---
Site Admin
Posts: 579
Joined: Wed Jan 22, 2020 12:28 pm
Location: The Netherlands
My LEGO city name: Brickstow & Brickberry Springs
Contact:
[mention]Bricksterdam[/mention] goed idee, helemaal wanneer [mention]Jori[/mention] het er al gelijk mee eens is! Ik zal even kijken waar ik 'm ophang, momentje..
Inmiddels het oorspronkelijke topic uit elkaar gehaald en er een forum categorie voor gemaakt. Die NIGHT MODE ziet er erg gaaf maar ook erg duur uit! Althans ik las ergens op internet dat dit de gesuggereerde prijzen zijn, die dan weer voortkomen uit de Light My Bricks-productlijn:
LEGO Ideas 21321 Treehouse Night Mode verlichtingsset
649DKK (± €86,85), 32 LEDs, 12 Expansion Boards
LEGO Harry Potter 71043 Hogwarts Castle Night Mode verlichtingsset
1449DKK (± €193,92), 74 LEDs, 11 Expansion Boards
LEGO Creator Expert 10265 Ford Mustang Night Mode verlichtingsset
329DKK (± €44,03), 15 LEDs, 2 Expansion Boards
LEGO Creator Expert 10261 Downtown Diner Night Mode verlichtingsset
619DKK (± €82,85), 9 LEDs, 6 Expansion Boards
We hebben voor Brickstow tot nu toe met STAX en LightMyBricks geëxperimenteerd: STAX is betaalbaar maar minder in details te verwerken (lampjes zijn stenen, passen niet onder een transparant steentje. LMB wel) LMB is dan wel weer in details te verwerken maar fors geprijsd. Ik heb ze van een [url=http://www.edubricks.nl]Nederlandse importeur[/url], waarschijnlijk de enige importeur in Nederland?
Zojuist toegevoegd:
Volgens
TheBrickFan
heeft LEGO ergens deze reactie achtergelaten over hun LIGHT MODE experiment, best interessant:
To clarify and hopefully reassure everyone here, those products are a concept test, it's not something that will go into the market in that current state. We wanted to test if regular consumers find it appealing and used it as a conversation starter to figure out if and how consumers see lights fit as part of the LEGO experience. We spoke about quality, price, building experience, etc. From that to having an actual product in the market there's still a long path, so it doesn't mean there's going to be a product out "tomorrow". Especially on the toy safety compliance there are things that need to be in place beforehand.

We've also been engaging with many lead users that do lights, for finding potential pilot candidates and we had dialogues with quite a lot of them. We continue to evaluate how to best engage in a potential pilot. I want to reassure everyone here that in Lead User Lab we have the very best intentions when it comes to collaborating. We'll try to have a close dialogue with Rob (Brickstuff) and solve any potential misunderstandings.

In the meantime, we'll continue to evaluate the light product concept testing at LEGO World and to understand how a light kit product could be brought to market in collaboration with a lead user, since that's what Lead User Lab is all about, finding and trying to scale outside-in ideas.
Met name op het vlak van kinderveiligheid is dit wel een ding denk ik! Ik zie de LightMyBricks onderdelen niet veilig door de handen van een 4-jarige gaan.. Of erg snel sneuvelen, en dan is zo'n bedrag van €82 wel een aardige investering om kwijt te raken. Tot nu toe zijn alle AFOL producten natuurlijk óók voor een 4-jarige geschikt als je kijkt naar de onderdelen, al adviseren ze dat niet op de doos.
---
Site Admin
Posts: 579
Joined: Wed Jan 22, 2020 12:28 pm
Location: The Netherlands
My LEGO city name: Brickstow & Brickberry Springs
Contact:
Heeft één van jullie hier nog meer over gehoord/gezien? Ik niet, in mijn nieuwsbubbel is het opvallend rustig omtrent Night Mode.
---
Brick
Posts: 410
Joined: Mon Jan 27, 2020 12:53 pm
My LEGO city name: Brickswijk aan Zee / Bricksterdam
ALS ze er al wat mee gaan doen, reken op minstens een jaar voor ontwerp-testing-certificering-productie-marketing etc ik verwacht voorlopig nog stilte...
Sarcasm is my oxygen
---