Sign up or login with your social network account
Forum rules
Everyone can start a topic, both Dutch and English topics are welcome / Iedereen kan een topic starten, Nederlands- en Engelstalige topics zijn welkom!
Brick
Posts: 410
Joined: Mon Jan 27, 2020 12:53 pm
My LEGO city name: Brickswijk aan Zee / Bricksterdam
I'm doubting the reliabillity of information regarding this set because the significant increase in pieces and figs and the low ppp siince the first reports.
However, Promobricks posted this update: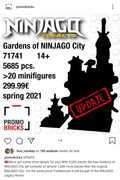 Sarcasm is my oxygen
---
Site Admin
Posts: 579
Joined: Wed Jan 22, 2020 12:28 pm
Location: The Netherlands
My LEGO city name: Brickstow & Brickberry Springs
Contact:
Well, if this ppp turns out to be legit... I'm in
Founding father of this website.
| Are you up for the 2020 Giveaway contest!?
---
Street tile
Posts: 11
Joined: Mon Apr 27, 2020 12:08 am
My LEGO city name: Tazzman City
Im keen to see what the set looks like and could i find a way to incorporate it into my layout.
---